Thozhi song lyrics are sung by Pradeep Kumar the song lyrics are written by Madan Karky. This video song is featured by Dulquer Salmaan, Kajal AggarwalPradeep Kumar, The music of this song is given by Govind Vasantha. and the video is directed by Brinda. music label by Sony Music India.
Song: Thozhi
Singer: Pradeep Kumar
Lyrics: Madan Karky
Music: Govind Vasantha
Thozhi song lyrics in hindi
यारोदुम कानाधा थूमैयैइ
उन्नील नान कांगीरें
मुन एनरुम इलादा असैगलि
उन्नाले नान कोलगिरेने
वझियिले इधायथिन निजालय
नीलगिनराय नान ओया
विझियिले थिलिथिडुम कदलाय:
आगिनराय एन सेवेन
सोलादी थोझी थोझी
एन्नारुन्थोझी सोलादी
हे कन्नड़िया!
एन पिंबम एन्नै पोल इलैया
यूनिली
हे एन वानोलिया
एन पेचु थूरल पोल कैटकुधाए
यूनिली
हे एन निज़रथुनैया
मुराट्टू मौनम मेनमैय्या पेसुमा?
अरे हे उइरक्कधावे
थिरक्कुंबोदाहे
अयिराम वासमवीसुमा
थोझी थोझी
एन्नारुन्थोझी सोलादी
नीधाना एननुले वीज़वधु
थेरा तूरलगलय
नीधाना एननुले मूलवधु
थोंगधा थिप्पुककलाय
कविधईगल सुवैतनिदुम थुनैय्या:
नियानाय नियनाय:
पुरिंदिदा वेरिगालिन पोरुलै
कैटकिनराय एन सेवेन?
सोलाडी सोलाडी
सोलाडी सोलाडी
थोझी तोझी सोलादी
थोझी थोझी
एन्नारुन्थोझी सोलादी
Thozhi song lyrics in hindi
Yaarodum Kaanaadha Thooymaiyai
Unnil Naan Kaangiren
Mun Enrum Illaadha Aasaigal
Unnaale Naan Kolgiren
Vazhiyile Idhayathin Nizhalaay
Neelginraay Naan Oaya
Vizhiyilae Thelithidum Kadalaay
Aaginraay En Seyvaen
Solladee Thozhi Thozhi
Ennarunthozhi Solladee
Hey Kannadiyae!
En Pimbam Ennai Poal Illaiyae
Unil
Hey En Vaanoliyae
En Pechu Thooral Poal Kaetkudhae
Unil
Hey En Nizharthunaiyae
Murattu Maunam Menmaiyaay Paesuma?
Hey Hey Uyirkkadhavae
Thirakkumboadhae
Aayiram Vaasamveesumaa
Thozhi Thozhi
Ennarunthozhi Solladee
Needhana Ennulle Veezhvadhu
Theera Thooralgalaay
Needhana Ennullae Moolvadhu
Thoongadha Theeppookkalaay
Kavidhaigal Suvaitnidum Thunaiyaay
Neeyaanaay Neeyaanaay
Purindhida Varigalin Porulai
Kaetkinraay En Seyvaen?
Solladee Solladee
Solladee Solladee
Thozhi Thozhi Solladee
Thozhi Thozhi
Ennarunthozhi Solladee
Thozhi song lyrics end now if any mistake plz comment below.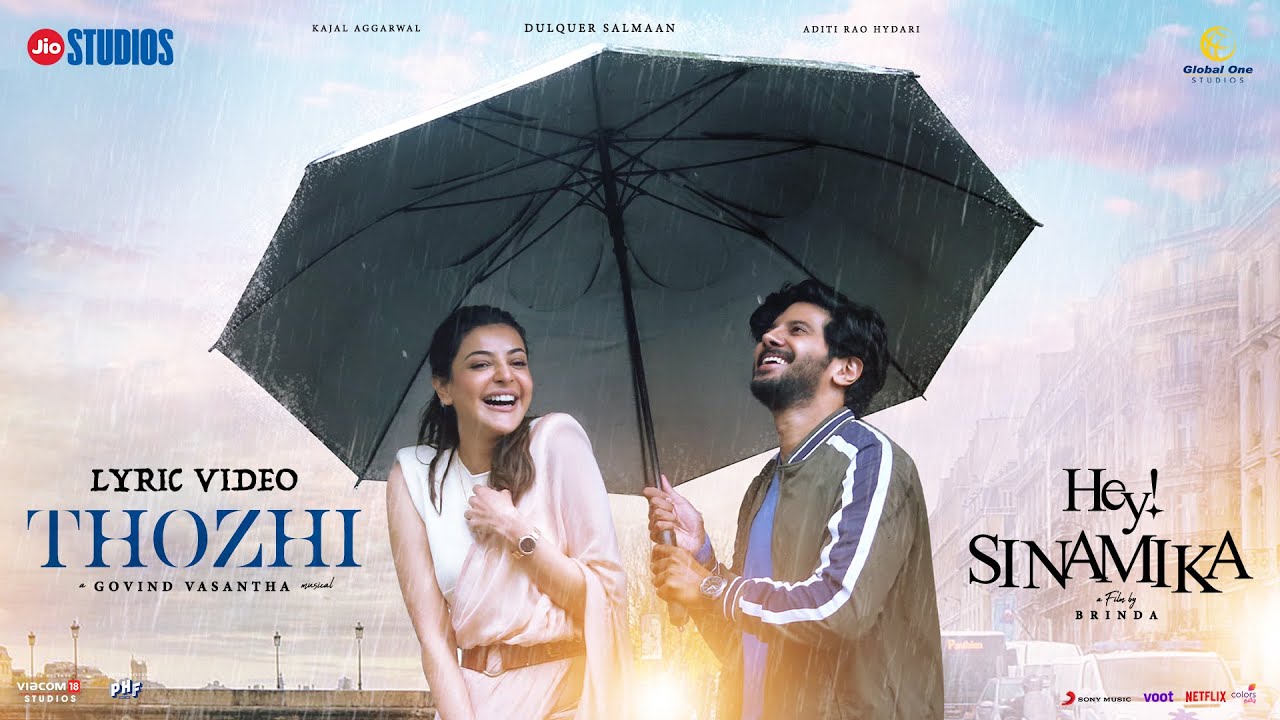 Thozhi song lyrics in Hindi – Pradeep Kumar best 2022
Thelyricsinhindi.com FAQsThozhi song
Q. 1 Who wrote the Thozhi song lyrics?
Ans:- Madan Karky
Q. 2 Who is the singer of the song Thozhi?
Ans:- Pradeep Kumar
Q. 3 Who is the director of the song Thozhi?
Ans:- Brinda
Q. 4 Which actors/actresses are in the song Thozhi?
Ans:- Dulquer Salmaan, Kajal AggarwalPradeep Kumar
Q. 5 Who gave the music for the Thozhi song?
Ans:- Govind Vasantha