Roots song lyrics are sung by Bintu Pabra the song lyrics are written by KP Kundu, Bintu Pabra. This video song is featured by Gungun Bakshi, Bintu PabraBintu Pabra, The music of this song is given by Bamboo Beats. music label by Pellet Drum Productions.
Song: Roots
Singer: Bintu Pabra
Lyrics: KP Kundu, Bintu Pabra
Music: Bamboo Beats
Roots song lyrics in hindi English Fronts
Gabru Jawan Shaunki Khan Aur Peen Ke
Buggiya Pe Lade Re Bhrote Barshin Ke
Mand Mand Chale Ghee Sa Galda Balhad
Aree Nyaare Se Nzaare Life Gamma Aali Jeen
Dekh Liye Jannat Ke Touch Feel Hove
Are Juth Koni Bolu Jamma Sach Feel Hove
Kheta Aali Naliya Mein Pair Tu Duboke
Are Chusiye Re Gande Kaati Gach Feel Hove
Par Naak Na Cadaiye Kade Bhi
Desiyan Main Kmmi Dekh Ke
Tere Shehar Ki Sadak Bhuljya
Gama Aali Gmmi Dekh Ke
Bhoot Pub G Ka Utre Tera
Baithak Ka Rummy Dekh Ke
Tera Saheri Hip Hop Bhul Jya
Mehfil Ya Jami Dekh Ke
Ghar Mein Bhi Baat Chale
Khet Aur Kyaar Ki
Sabte Aalg Sun
Hobi Tere Yaar Ki
Ek Baar Gaama Main Je Maar Jegi Geda
Are Raas Koni Aavegi Ya Hwaa Tane Bhaar Ki
Dil Dekhe Jaande Koni Bhure Chaam Pe
Aade Balka Ne Jaane Se Babu Ke Naam Pe
Oh Budhya Ki Bhi Ijjat Ye Dil Te Kre
Bade Raaji Hoke Jave Dadi Gori Dhaam Pe
Uth Ke Sbre Mahari Dadi Mala Fere
Are Bade Kaam Hojya Kave Ek Baar Lee Re
Dhudiya Ki Gelya Roj Mache Se Ladai
Kave Aaj Kal Dhud Mein Tu Paani Ghana Ghre
Pote Dhare Chilam Mein Aag Dekhiye
Oh Kurte Pajame Ke Maah Chail Gabru
Dhoti Kurta Mein Dadeya Ka Swag Dekhiye
Sari Tanne Deunga Main Gama Ki Detail
Roti Bajre Ki Khaiye Kati Gach Tindi Gel
Oh Bidiya Ke Tochan Main Hote Re Dikhau
Oh Dekhiye Bitodeya Pe Koi Ghiya Aali Bel
Oh Lage Se Schoola Te Re Bank Aaj Bhi
Saanp Maare Na Kisana K Re Dank Aaj Bhi
Oh Sache Saadhu Baithe Maahre Khede Aur Khadya Mein
Mandara Mein Baje Mithe Sank Aaj Bhi
Tere Pkka Mhu Mein Paani Aavega
Sarso Ka Saag Dekh Ke
Bade Bade Tyohaar Bhulja
Holi Aur Faag Dekh Ke
Yaad Hitra Ki Aave Na Tanne
Harya Ke Main Aag Dekh Ke
Heat Gaduye Ki Baje Gama Mein
Ragni Ke Rah Dekh Ke
Tu Aake Marjaani Dekh Le
Marjaani Dekh Le
Are Soch Badal Jyagi Teri
Tu Tubewella Ka Paani Dekh Le
Makha Paani Dekh
Are Bhul Jagi Teri Besleri
Tu Tubewella Ka Paani Dekh Le
Ho Bache Kaade Buggi Aale Tyra Ki Mrood
Gaama Aale Kaade Tere Shehara Ki Marod
Ho Eab Aali Kanka Mein Ganthi Banwadu
Teri Jaanjra Ne Kadhni Se Paira Ki Marod
Sarso Kanak Aur Jeeri Dekhiye
Mahre Bhaiya Te Bhi Badhke Se Seeri Dekhiye
Kuch Panchi Udd Dekh Khule Aasmaan Mein
Aur Kohad Mein Tu Googal Tateeri Dekhiye
Tanne Gym Ka Craze Chowmin Ka Craze
Arre En Saari Chiza Te Hai Yaara Ne Parhez
Tera Dhola Rang Roop Tanne Ache Laage Soup
Hum Chaye Ke Shaukeen Jime Patti Rahwe Tej
Aade 25 25 Lakh Wali Jhothi Milegi
Ghaam Mein Re Ret Ke Maah Lauti Milegi
Gaam Mein Je Koi Banda Aave Anjan
Aure Hookha Pani Pyar Te Re Roti Milegi
Bhole Ke Bhagat Bole Bam Bam Lahri
Are Khule Kaati Dil Ke Kandul Aur Khari
Thati Bande Base Se Fridpur Main
Or Pabra Kinala Lage Pyaar Ki Kacheri
Re Tu Jheeb Ki Chtori Hojyagi Bunda Main Suhali Dekh Ke
Re Tu Kandya Mein Bi Hath Ghaal De Jhadi Bera Aali Dekh Ke
Re Tu Fhoto Khich Khich Geregi Kheta M Prali Dekh Ke
Maja KP Bintu Aale Geeta Ki Khushboo Nirali Dekh Ke
Roots song lyrics in hindi
Roots song lyrics end now if any mistakes plz comment below.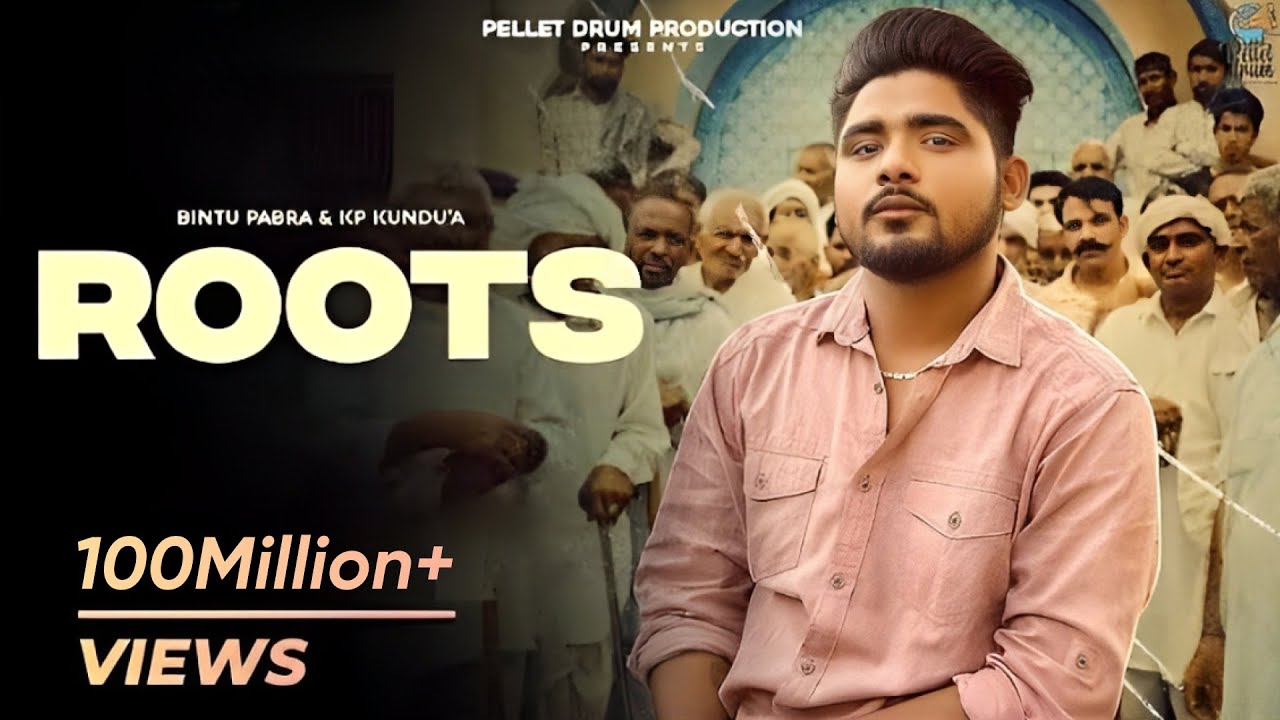 Roots song lyrics in Hindi – Bintu Pabra best 2022
Thelyricsinhindi.com FAQs Roots song
Q. 1 Who wrote the Roots song lyrics?
Ans:- KP Kundu, Bintu Pabra
Q. 2 Who is the singer of the song Roots?
Ans:- Bintu Pabra
Q. 3 Which actors/actresses are in the song Roots?
Ans:- Gungun Bakshi, Bintu PabraBintu Pabra
Q. 4 Who gave the music for the Roots song?
Ans:- Bamboo Beats