Likh Dega Ke Jaani song lyrics are sung by Gold E Gill the song lyrics are written by Addi Kalyan. This video song is featured by Raveena Bishnoi, Gold E GillGold E Gill, The music of this song is given by Gold E Gill. and the video is directed by . music label by kaushal Music.
Song: Likh Dega Ke Jaani
Singer: Gold E Gill
Lyrics: Addi Kalyan
Music: Gold E Gill
Likh Dega Ke Jaani song lyrics in hindi English Fronts
Chora Tha Sidha Sadha
Ree Ishq Mein Ho Gaya Adha
In Lambi Karli Dadhi
Dil Tutta Ban Gaya Baba
Manne Khoob Mili Badnami
Ho Gaya Ghar Keya Ke Shami
Ree Jitni Beeti Mere Pe
Bata Likh Dega Ke Jaani
Teri Gelya Hasna Rona Tha
Byah Tera Mera Hona Tha
Kyun Kehl Gayi Meri Gelya Tu
Mera Dil Ke Koi Khilona Tha
Ikk Bolya Baba Mere Te
Tu Pyar Kare Jis Chehre Te
Wo Loot Ke Addi Tanne Re
Firr Muh Modegi Tere Te
Main Bolya Baba Sanki Hai
Tu Bukhi Konya Dhan Ki Hai
Manne Karya Bharosa Tere Pe
Par Kari Tanne Tere Man Ki Hai
Rang Roop To Suthra Tha
Par Dil Li Payi Kali Re
Tera Naam Bhi Leve Je Koi
Manne Laage Se Gali Re
Jo Sapne Kathe Dekhe The
Kis Gel Karegi Poore Re
Do Balak Hone The Apne
Tere Ke Tahriya Bhure Re
Hoya Sharabi Choti Ka
Main Pagal Barge Dhang Karu
Bass Tu Hi Dikhe Se Manne
Jab Main Ankhya Ne Band Karu
Kitna Bhi Khud Ne Tang Karu
Na Nafrat Hoti Mere Te
Teri Marji Tanne Jo Karna
Manne Pyar Rahvega Tere Te
Meri Maa Ne Maa Batave Thi
Tu Kitna Haq Jatave Thi
Jab Tod Ke Hi Sab Jane The
Kyun Itne Sapne Dikhave Thi
Bass Choriya Ki An Hoti Ijjat
Choreya Ki Bhi Hove Hai
Ib Haal Dekh Ke Mera Yo
Mera Maa Bhi Lukh Lukh Rove Se
Tu Mehendi Laiye Hathan Pe
Main Marke Nyun Dikhaunga
Manne Pyar Karya Tha Sacha Re
Ganeya Mein Likh Ke Jaunga
Tu Baith Ke Doli Mein Jaiye
Main Jaunga Arthi Pe
Re Itni Sachi Keh Jaunga
Na Pyar Kare Koi Dharti Pe
Likh Dega Ke Jaani song lyrics in hindi Fronts
Likh Dega Ke Jaani song lyrics end now if any mistakes plz comment below.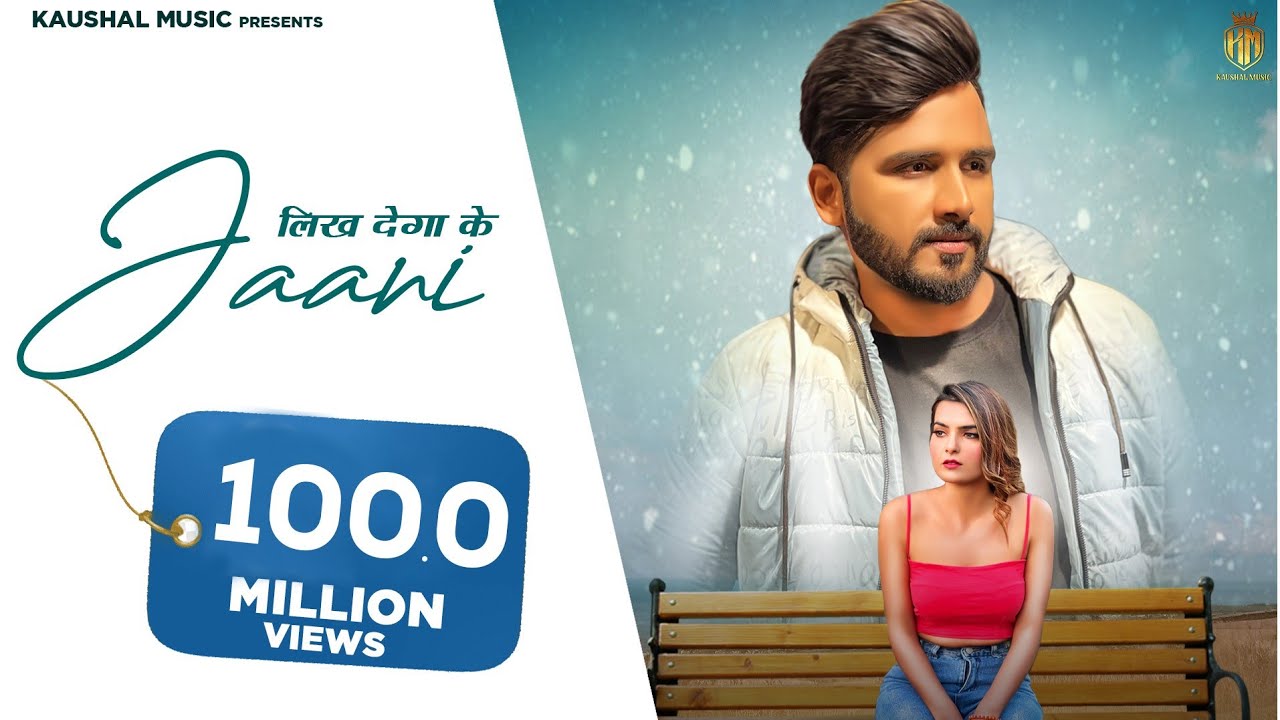 Likh Dega Ke Jaani song lyrics in Hindi – Gold E Gill best 2022
Thelyricsinhindi.com FAQs Likh Dega Ke Jaani song
Q. 1 Who wrote the Likh Dega Ke Jaani song lyrics?
Ans:- Addi Kalyan
Q. 2 Who is the singer of the song Likh Dega Ke Jaani?
Ans:- Gold E Gill
Q. 3 Who is the director of the songLikh Dega Ke Jaani?
Ans:-
Q. 4 Which actors/actresses are in the song Likh Dega Ke Jaani?
Ans:- Raveena Bishnoi, Gold E GillGold E Gill
Q. 5 Who gave the music for the Likh Dega Ke Jaani song?
Ans:- Gold E Gill